click on the image to see a larger photo!

7 different PLUG TOBACCO PROOFS M489/495P*


Very Rare complete set consisting of 7 different ½ to 3½ Pounds, series "C". All are PROOFS without control numbers. Very Fine to Superb mint, as issued without gum, only - sold out 6 different - Rare group of very early Canadian tobaccos 1/2 to 15 Pounds. Pristine condition - sold out

1883, 1897 Canadian Tobacco stamps.


15 different in blue, red and green. 1 Pound to 70 Pounds. Spectacular condition.
Beautifully engraved mostly by the American Bank Note Co. Over 100 years old.
This kind of workmanship is no longer seen. These look just like money.
Various designs for the different values, many have coupons.
Spectacular ... sold out.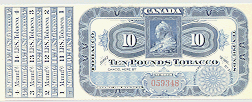 photos about 50% actual size


[ Home ]
[ SCARCE SNUFF STAMPS An extensive offering of these very popular items ]
[ Canadian Tobacco Taxpaid stamps ]
[ Canadian Tobacco Taxpaid stamps 2 ]