The Canadian revenue stamp album
consists of 449 pages with virtually one stamp of every issue illustrated
printed on high quality, acid free paper comes with 4 quality custom imprinted padded binders.
has spaces for all Canada & Provinces revenue stamps,
Newfoundland revenue stamps,
Telephone & Telegraph Franks, P. O. W. Franks, etc.
Each space is numbered with catalog number from the "Canadian Revenue stamp catalogue by E S J van Dam"

There are pages for:
basic stamps
perforation varieties
paper varieties
shade & colour varieties
booklet panes
imperf pairs
errors
all kinds of unusual items
and of course any new finds and additions, since the previous album, are included as well.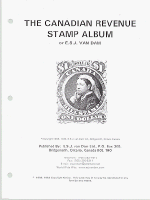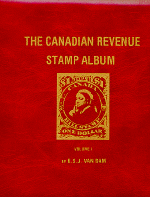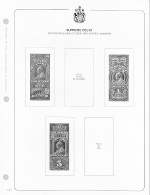 click on any of the above images for a larger photo

The album is set up in such a way that you can collect the way you want to.
Collect everything and leave all the pages in the album
or
just collect the basic stamps by removing the variety pages until a later date.
Additional blank pages available for mounting multiples, documents, etc.
to any address in Canada $199.95 (price includes postage, packing, insurance and tax)
to any address in USA Cdn $219.95, postpaid & insured
to any overseas address , price on request, postage rates vary tremendously
The Canadian revenue stamp album
Additional matching blank pages available
35c per page - minimum 25 pages.
your choice of Coat of Arms at top of page

completely blank page

Nova Scotia

Federal

Ontario

Alberta

P. E. I.

British Columbia

Quebec

Manitoba

Saskatchewan

New Brunswick

Yukon

Newfoundland

Total pages

shipping charges for album pages
in North America $10 - for 1st 25 pages + $5 for every additional 25 pages.
or email us for further details:

we accept Visa, Mastercard, check, money order, draft, etc.